With the 89th Academy Awards around the corner, Moonlight has been the talk of this award season. Barry Jenkins' sophomore feature has garnered a total of eight nominations. Jenkins' trifecta nomination for Best Director, Best Picture, and Best Adapted Screenplay is historic, as no Black person has previously been nominated in these three categories. Moonlight is based on Tarell Alvin McCraney's play, In Moonlight Black Boys Look Blue, which is a semi-autobiographical look into McCraney's experience as a young Black gay man coming of age in Liberty City. Besides its numerous nominations at the Academy Awards, Moonlight has started important conversations surrounding toxic masculinity, the school to prison pipeline system, three dimensional representation of Black Americans, and homophobia within Black American communities through its nuanced portrait of the Liberty City neighborhood in Miami. This touching story has been able to move many people across the board as it taps into themes of self-hatred, acceptance, and coming of age. As a non-Black person, I found myself relating to this story through its emotional pull and relatability.
Moonlight follows a young man, Chiron, whose mother (Naomie Harris) is addicted to crack cocaine. At the same time, his peers constantly bully him in school. The neighborhood drug dealer Juan (Mahershala Ali) and his girlfriend Teresa (Janelle Monae) become Chiron's surrogate parents, since his mother is absent. His friend Kevin is another constant presence during his life journey. Chiron is played by three different actors: Alex R. Hibbert as a young kid, Ashton Sanders as a teenager, and Trevante Rhodes as a grown man, who follows in his mentor's footsteps. Likewise, Kevin is played by three different actors: Jaden Piner as a kid, Jharrel Jerome as a teenager, and Andre Holland as a man.
This narrative, created by both McCraney and Jenkins, feeds into the notions of anti-essentialism. Anti-essentialism, a concept coined by Trina Grillo, goes against the notion that every member of a group shares the same experiences or that one group has a monolithic narrative of their experience. The story is multifaceted and layered, leaving you with both tears and smiles of relief. Juan and his girlfriend Teresa take Chiron under their wings as they teach him how to cultivate pride within himself and allow him to come into his own personal truths. One particularly touching is when Juan takes young Chiron to the beach. After Juan teaches Chiron how to swim, they have a conversation about life and coming into yourself. This reminded me of a time when a mentor of mine said something of a similar sentiment.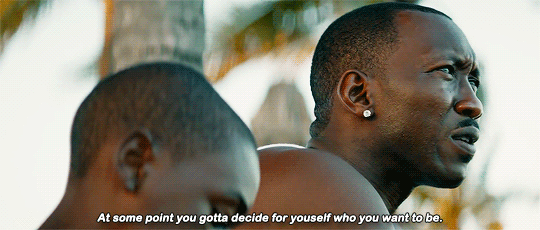 Another striking scene that almost left me in tears was when Teresa, Juan, and young Chiron had a tough conversation. Both the adults accepted young Chiron for what he knew at the time and what he had yet to discover. That pure acceptance allowed me to reflect upon moments where I too in my younger years had wavering acceptance from my peers, but I had adult figures who had sheer belief in who I was at the time.
Teresa is able to warm our hearts again when she takes a teenage Chiron in for the night. A small, yet powerful gesture of Teresa helping him make his bed made me feel like I was Chiron in that moment.
Like Chiron, I've had a few people like Kevin who have come into my life and never rejected me when I revealed my true self to them. This is clear when a much older Chiron and Kevin meet again as their eyes tell the whole story.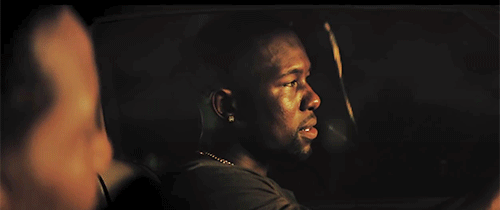 Moonlight allowed me to access emotions that I buried from my past and reflect upon recent memories of people who have impacted my life significantly. It helped me reflect upon profound experiences where silences resulted in both acceptances and rejections. This film evoked recollections of each of the Kevins, Juans, and Teresas I've encountered in my own life. Moonlight reminded me of the power of love as an action.